Scottish Smith's; McCowan, Cowan, or Gow's in disguise?

Smith is the commonest Surname in Scotland. It is an Anglo-Saxon surname having arrived in Britain with the Angles, Saxon's and Jutes from Denmark and Northern Germany from around 500 AD onwards. Its Danish and German equivalent 'Schmidt' is still very common in both of these Countries and reflects the areas from which the invading Anglo-Saxons departed. The surname refers to either a 'worker of metal' or a soldier; someone who 'Smote' and its broad descriptive term accounts for its common use as a surname. However, it is a bit of an enigma that the greatest concentration of 'Smith's' in the UK occurs in Aberdeen! One does not normally associate the surname Smith with Scotland! So what are the origins of the Scottish 'Smith's?'
There may be a clue as to the origin of the Scottish 'Smith's' in Ireland. In Ireland most people with the surname Smith are 'McGowan's in disguise! Put simply the translation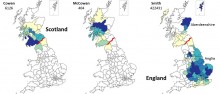 of McGowan into English gave rise to Smith (although Smithson may have been more appropriate). The Surname McGowan in Scotland may be of later Irish emigrant origin, its Scottish equivalent is 'McCowan' or 'Cowan.' McCowan is overwhelming Scottish in that those with this surname are overwhelmingly protestant (compared to later Irish Catholic McGowan emigrants).
In 1841 there are 2 clusters of McCowan/Cowan farmers representing 2 different Clans; McCowan's in the Highlands and Cowan in the lowlands. McCowan appears to have gradually declined in usage in Scotland while Smith has increased, this reflects the general trend where the original Gaelic surnames have declined as the surnames are translated into English. It is likely therefore that Scottish Smith's are either Highlander McCowan or Lowlander Cowan's in disguise. Whether this is true will only be revealed in the commercial DNA test results. So if you are a 'Smith' and have had a commercial 37 marker Y-DNA test done, and you see plenty of surname matches to other Smith's but also a few matches to Cowan's, McCowan's or Gow's this is merely reflecting your Scottish ancestry. Click here for the origin of English Smith's.